Cuidados pessoais de marca Cuidados pessoais Cuidados com a pele
Pacote:

Nós embalamos os produtos em placa de onda de poliestireno (isopor), saco PE e caixa de exportação.

marca:

KING SAN-YOU

Lugar de origem:

Taiwan
Descrição do produto
Cuidados pessoais de marca Cuidados pessoais Cuidados com a pele
Bolsa de batom acessível e redonda bonita
KING SAN-YOU fornece principalmente batom, bálsamo para os lábios, cosméticos e lustres para brilho OEM.
Se você precisar de amostras e cotações, seja bem-vindo, avise-me.
Nós enviaremos você de acordo.
Eu acredito que nossa qualidade não irá decepcioná-lo.
A banda de casca de alumínio A no meio é de 6 mm
Place of Origin : 
Taiwan
Minimum Order :
20,000 pcs
Delivery Time :
30 days
Material :
AS, ABS
Dimension :
74 x 19 mm
Inner Tube Diameter :
11.7mm=0.46 inch
12.1mm=0.48 inch
12.7mm=0.50 inch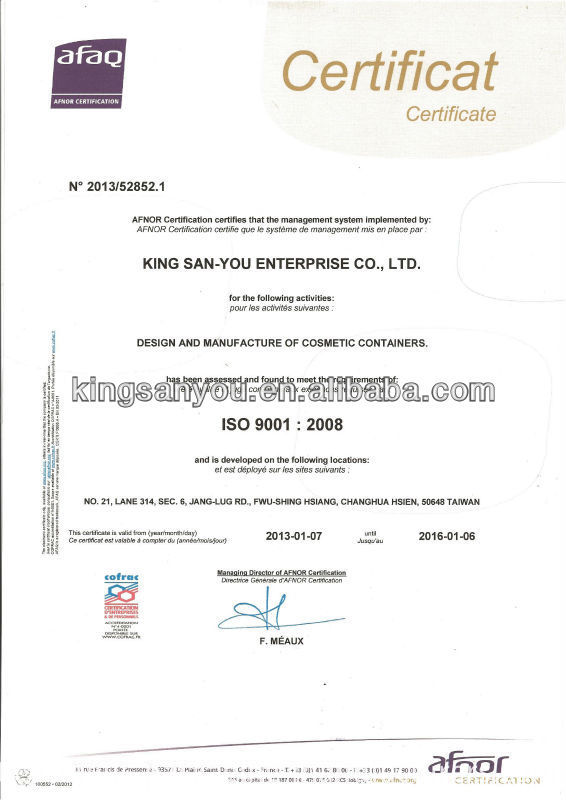 Perfil da empresa
Gasgoo.com and CIAPE organize large-scale parts procurement matchmaking

The 2009 Gasgoo.com (Beijing) Auto Parts Purchase Matching Conference was held in Beijing at the end of September. "94% of buyers have found satisfactory auto parts suppliers." This is Gasgoo.com's 2008 China International Auto Parts Expo. The Matching of Auto Parts Purchase held during the CIAPE) tracked the results of...

Google formally acquires Like.com

Beijing August 21 news, according to foreign media reports, the visual search engine Like.com announced on the home page of the website Friday, Google has acquired Like.com. Both Google and Like.com did not disclose the terms of the acquisition. However, there were reports last weekend that Google will acquire Like.com and...

Create winter boots wild SHOPBOP.COM boots beautiful underfoot

Autumn and winter boots not only pay attention to the texture, but practical design is remarkable. This kind of boots is a must-have for urban women who enter and leave the office every day, and it can make your legs look slender. SHOPBOP.COM combines comfortable and wearable design style, pays attention to detail...
Grupo de Produto : Casos Cosméticos
Enviar e-mail para este fornecedor